You can check available time slots here
Jan
25
Sat
Winter Refresher Day

@ Peter Froggatt Centre
Jan 25 @ 10:00 am – 3:30 pm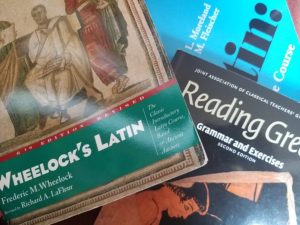 The Classical Association in Northern Ireland
Belfast Summer School in Latin and Classical Greek
WINTER REFRESHER DAY
Venue: Peter Froggatt Centre, Queen's University Belfast
Saturday 25th January 2020, 10am – 3.30pm
Classes will be available in Latin and Classical Greek at beginners', intermediate and advanced levels.  These classes are designed to review material covered in the summer school but it is not necessary to have attended the summer school: everyone is welcome.
Beginners classes will study basic grammar principles while classes for intermediate level Greek and Latin will revise grammar, leading to the reading of an adapted text.  Advanced classes will read original Latin or Greek.
This revision day is open to all over 14 years of age.  Please note that students aged 14 – 17 must be accompanied by a chaperone.
Fees for the day are £30.  Interested students should register by emailing the summer school co-ordinator on belfastsummerschool@gmail.com.  Payment is required to secure your place at the refresher day and can be made:
Online by card at the following link paypal.me/belfastsummerschool
By cheque made payable to "The Classical Association in Northern Ireland" and sent to Belfast Summer School, c/o 39 Old Mill Grove, Belfast BT16 1WB.
Please contact the co-ordinator, Helen McVeigh, with any queries you may have (email belfastsummerschool@gmail.com).