As 2020 began, plans were in train for the Belfast Summer School in Latin and Classical Greek to take place at a venue in Belfast, as it had done since 2016. The first summer school offered two courses in classical Greek to 11 students and took place in a church hall. By 2019, the summer school was two weeks in duration, offering courses in Latin and classical Greek at beginners, intermediate and advanced levels, with a number of optional extracurricular activities.
By the beginning of March 2020, it was clear that the Covid crisis was going to disrupt our plans. As the UK went into lockdown and we learned that large gatherings were being forbidden, regretfully I cancelled the summer school.
In early May, we were all becoming more used to virtual meetings, and several students asked me if I would consider moving the summer school online. Thinking a small number of students might be interested, I decided to offer online courses of one week in beginners and intermediate Latin and Greek. So a virtual summer school was advertised on social media and various email lists and before long it was clear that we weren't thinking big enough!
I was receiving emails from the UK and Ireland, from countries in Europe, and from north America. Where necessary, classes were timetabled to accommodate participants from different time zones, and such was the interest that advanced classes were added, and the entire summer school schedule was repeated.
It is impossible for a virtual event to offer the usual secondhand book sale, day trip, and social evening, but two guest lectures and a workshop were added to the programme. Reviews of these will follow in a future newsletter.
So what can I report from the summer school?
Well, one of the beginners Greek students was so inspired that within a few days of the end of the summer school, he had recorded and published his first podcast, a discussion with one of his teachers on the battle of Thermopylae. You can listen to Harry's podcast here.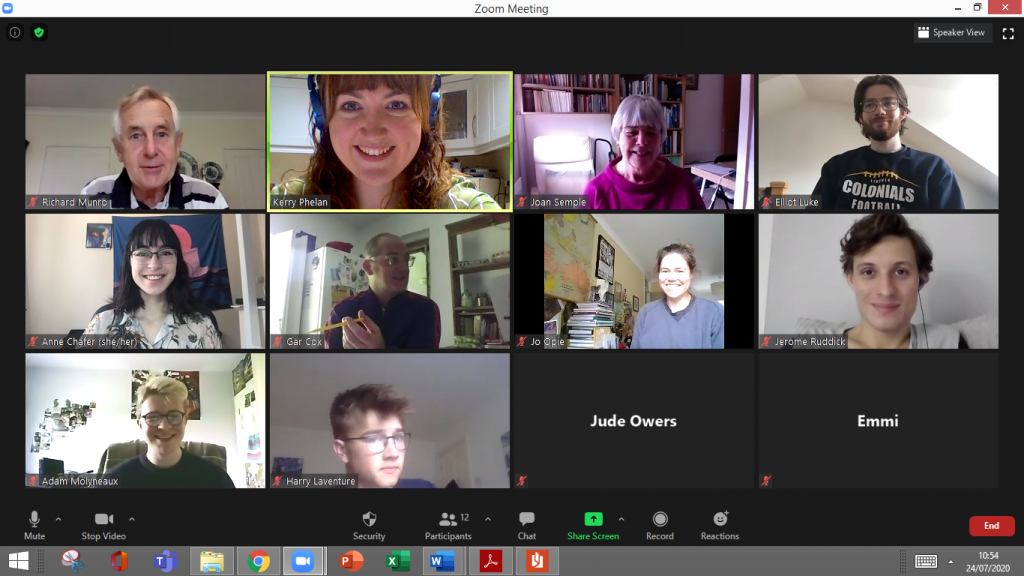 Latin vs Greek
A battle of sorts simmered over the two weeks, between the Latin students and the Greek students. Some advanced Greek students (goaded by their tutor Derek) changed their names as displayed on Zoom to 'Latin is Boring', 'Greek Rules' and 'Greece > Rome'! This led the beginners Latin students to fight back and change their names to 'Latin Optima Est', 'SPQR' and similar. But things took a rebellious twist in week 2.
One of Amber's Latin students had taken Greek the previous week and was unsure where his allegiances lay. He waited until the moment when Amber was taking the class photo, and briefly changed his display name to 'Greece is Best' before changing it back. This wasn't noticed until rather later, to the delight of all the Greek students and the horror of the Latin students. Of course, as summer school coordinator, I remain impartial at all times and would never take sides or try to stir things up, but at the same time, I congratulate Adam for his brave stance. #greekisbetterthanlatin *runs and hides*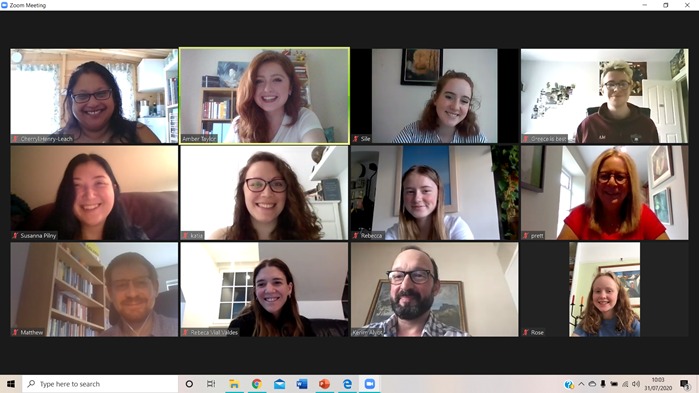 Belfast Summer School tutors
Joking aside, I am forever grateful to the other tutors for their passion for Latin and Greek, their support for the summer school, and their commitment to guaranteeing that our students receive the best possible experience with the highest quality teaching.
Intermediate Latin tutor, Steve McCarthy says, "despite these difficult times, it was a pleasure to be able to bring some of the ancient world to students around the world." Many students in the advanced Latin classes were trainee teachers and postgraduate students, which shows, according to advanced Latin tutor Lynn Gordon, that the summer school is playing its part in ensuring that the future of classics is secure for the next generation! Beginners Latin tutor Amber Taylor agrees that the summer school is enabling an even wider circle of people to access classical languages.
There are frequent calls on classics social media and email lists for support for endangered classics departments at universities all over the world, and there appears to be a trend among large academical institutions to move away from studying the ancient world as part of their arts and humanities programmes. Dr Kerry Phelan welcomes the numbers of students enrolled this year. She says "the unwavering enthusiasm for the courses on offer by the Belfast Summer School show that interest in the ancient world remains strong in an ever-changing and constantly turbulent modern society. We at the Belfast Summer School are proud to buck the trend!"
The variety of students across all classes demonstrates the broad appeal of classics and how it fosters relationships between people of all generations and backgrounds. Advanced Greek tutor Derek McCann says "New generations are still hungry to immerse themselves in the wisdom and wonder of the ancients, and add their own fresh insights and infectious enthusiasm, while senior citizens are seeking it out, or returning to it, for stimulation and society in their well earned retirement."
I am continually overwhelmed by the numbers of students who share my interest in the intricacies of ancient Greek grammar! While we tutors hope that through our teaching we inspire the students, they in turn inspire and encourage us. Teaching at the summer school is a wonderful experience, and we greatly value the opportunity to meet and become acquainted with such a wide variety of students.
Are you interested in joining us next year? Add your name to my mailing list below.